The Alaska Gas Pipeline Project
Alaska Gas Pipeline project is a plan to transport natural gas from fields located on Alaska's North Slope to Alberta, Canada. Gas arriving Alberta will be transported to the US through an existing pipeline network. There is also the possibility that another pipeline will be built to transport gas from Alberta to the Midwest, terminating near Chicago. 
Here's the proposed timeline for development & construction of the Alaska Gas Pipeline:

There are 2 companies working to develop the pipeline. ConocoPhillips and BP announced in April of 2008 that they had joined forces to create Denali – The Alaska Gas Pipeline.
Denali is their effort to build a line and bring North Slope gas to market.
Later that year, the State of Alaska awarded TransCanada a license for the project under the Alaska Gasline Inducement Act (AGIA). This license came with $500 million in seed money.
At this time both groups are conducting preliminary studies to determine the scope & cost of the project. 
Both companies also plan to hold open seasons in 2010. Open season is when shippers commit long-term to sending gas down the line. The success of this project depends on these long-term shipping contracts. Suppliers need to commit financially or the pipeline project won't be viable.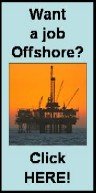 If the open season is successful, either Denali or TransCanada will build the pipeline. One group will drop out or they'll join forces. The local gut feeling is that TransCanada will join Denali's team. ConocoPhillips and BP have been operating in Alaska for a long time and they understand local politics & concerns. They also have experience building pipelines in Alaska's harsh & varied environment. Locals feel this knowledge gives them an advantage. 
Everyone wants to know, "When can I get a job working on the Alaska Gas Pipeline?" Well, the big hiring boom won't happen until everyone starts ramping up for construction – and that's several years away in approx. 2013. 
In the meantime there are jobs related to field studies, engineering, permitting, cost forecasting, etc. These are scattered amongst the various contractors in the US & Canada. 
For now, it's a game of wait-and-see. Studies must be completed to better determine costs and open season needs to take place. If suppliers commit to sending gas down the pipeline then TransCanada and Denali need to decide who will go forward with the project. Until then, get as much work experience in your field as you can. The better your skills the better your chance of securing a job once construction begins on the Alaska Gas Pipeline. 
FAQs about the Alaska Gas Pipeline