Just how DO people find
Alaska Pipeline Jobs?!!

Looking for reliable information about Alaska pipeline jobs or Alaska oil jobs in general? Want to learn what it's like to work Prudhoe Bay jobs or one of the many field camp based positions? Wondering what the living conditions are like on Alaska's North Slope? Well, look no further. All the information you've been looking for can be found within this site!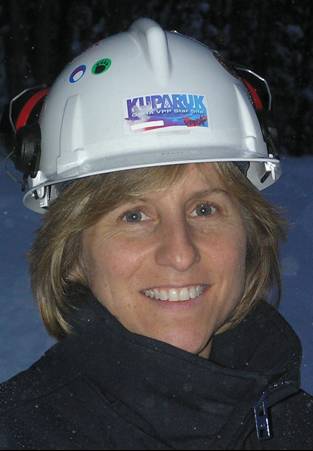 When I decided to get serious about finding a North Slope job the first thing I discovered was… there was no good, reliable source of Alaska pipeline job information available to me.
Oh sure, I found the websites for the major field owners in Alaska's oil and gas industry – ConocoPhillips and BP. But, I soon realized that these people did not hire the majority of the workers. The people they did hire were mainly engineers, geologists and finance analysts. I'm none of those things. At the time I was a public school teacher who had lost her job due to budget cuts.
So, I cast my net further. I spent hours on the internet reading articles and whatever information I could find about Prudhoe Bay jobs, North Slope jobs, and Alaska oil jobs in general. Anyone I knew who had worked on the slope got a call from me and we talked about the different employers, what kind of work they did, what they looked for in employees, etc. I cold-called numerous companies and if I got through, talked to their Human Resources department.
My search for good information was tedious and at times frustrating, but I persevered and within a few months I landed my ideal job. That was over three years ago. Since then I've moved on to better and higher paying positions. I can honestly say that losing my teaching job was the best thing that ever happened to me because it forced me to get serious about working on the slope.
Now that I have an oil industry job I find that I get many phone calls from people who are interested in an Alaska pipeline job and need information. They want to know how I did it (just like I did when I was starting out). That's the information I hope to share with you here.
My goal is to provide you with the best, most comprehensive resource about work and life on Alaska's North Slope. In particular, I'd like to help you find the Alaska pipeline job that is right for you. The variety of jobs up here is amazing…from plumbers, housekeepers, secretaries, drivers and fuelers to reservoir engineers, automation experts, hydrologists and fire department chiefs…whatever work you do now you can probably do up here (and at a much higher pay scale).
This site is a work in progress. I encourage you to come back often and see what new information has been added.
Best of luck and thanks for stopping by,
Mary
PS. Please contact me if you have questions that I haven't answered. I'd love to share my knowledge and experience with you - all you have to do is ask.
Alaska Gas Pipeline Project Summary & Status
NSTC - Every person who works on Alaska's North Slope is required to complete the North Slope Training Cooperative course. Read here to find out what the class involves and how/where to take it.
Tips on how to use this site to find & apply for a North Slope job
Insider info on Alaska North Slope Jobs; who's hiring, what they're hiring for, contact information, plus the latest work-related gossip from the slope
Information about Alaska Welding Jobs on the North Slope. Where to find work and how to get the job.
Information about Alaska Union Jobs on the North Slope - contact information and details for finding union work
Camp Life for Alaska Slope Workers - North Slope Housing, Internet Access, Recreation, and more...
The Newsletter of AlaskaPipelineJobInfo.com
Access past issues of the North Slope Insider
Prudhoe Bay weather conditions on Alaska's North Slope
Contact AlaskaPipelineJobInfo.com
Why I decided to use SBI! to build this website - and why I love Site Build It now more than ever
AlaskaPipelineJobInfo's Privacy Policy